We're your everyday, no frills (except on our shirts) no nonsense, all fun, city family. Big city, small city, doesn't matter what size city, kind of family. So, naturally, if we're not at home, you'll catch us roaming the streets of downtown.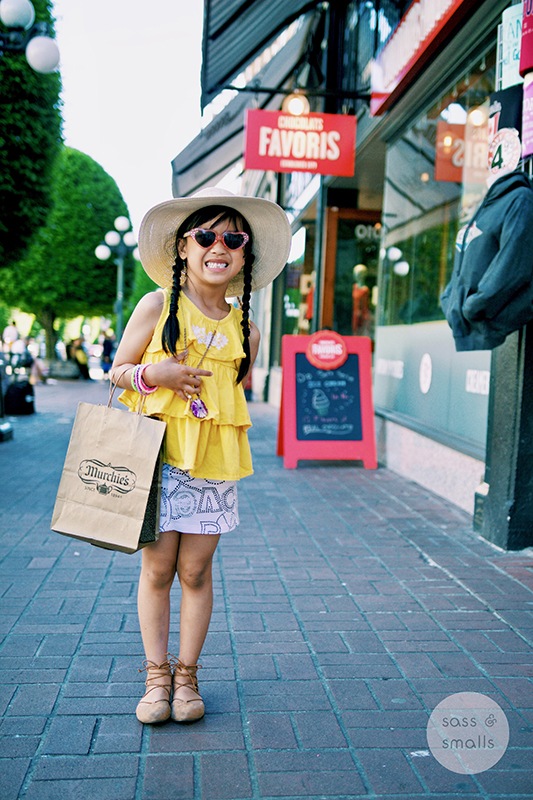 On our island, the downtown area is generally clean, quaint, and overall, very lovely. We love to spend Saturdays (and especially free parking Sundays) in the downtown core. Sometimes, we even encourage Little Mama to scoot around on her scooter as we window shop and take in the downtown sights. Originally being a big city family, we don't shy away from the hustle and bustle of the city centre, but with a 6 year old, it certainly is more convenient to roam around a more compact arena.
Why? Well, by the 2 hour mark, someone's crazy daisy self starts to rear it's tired little head.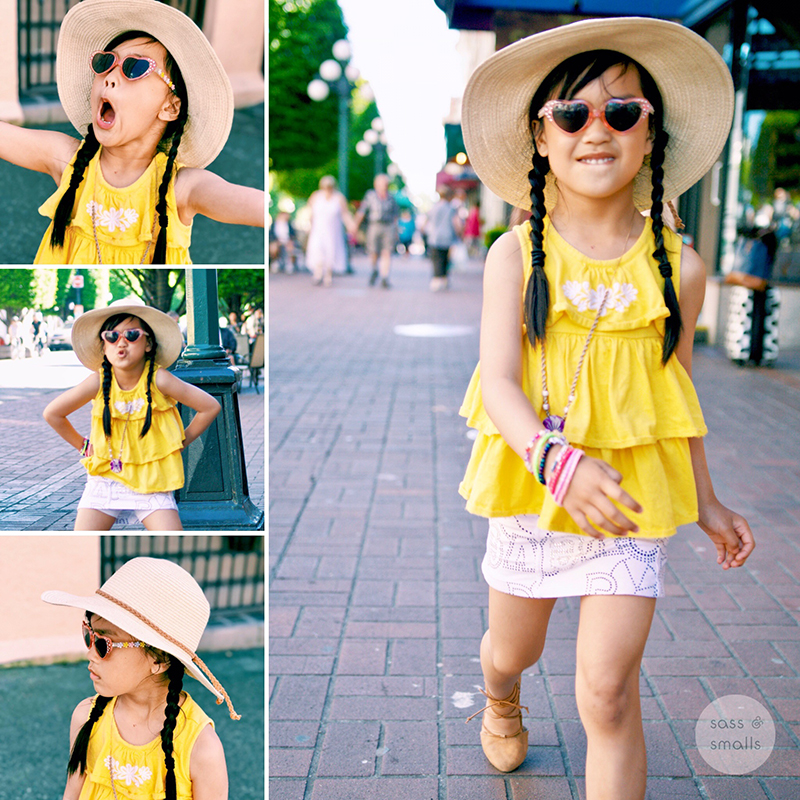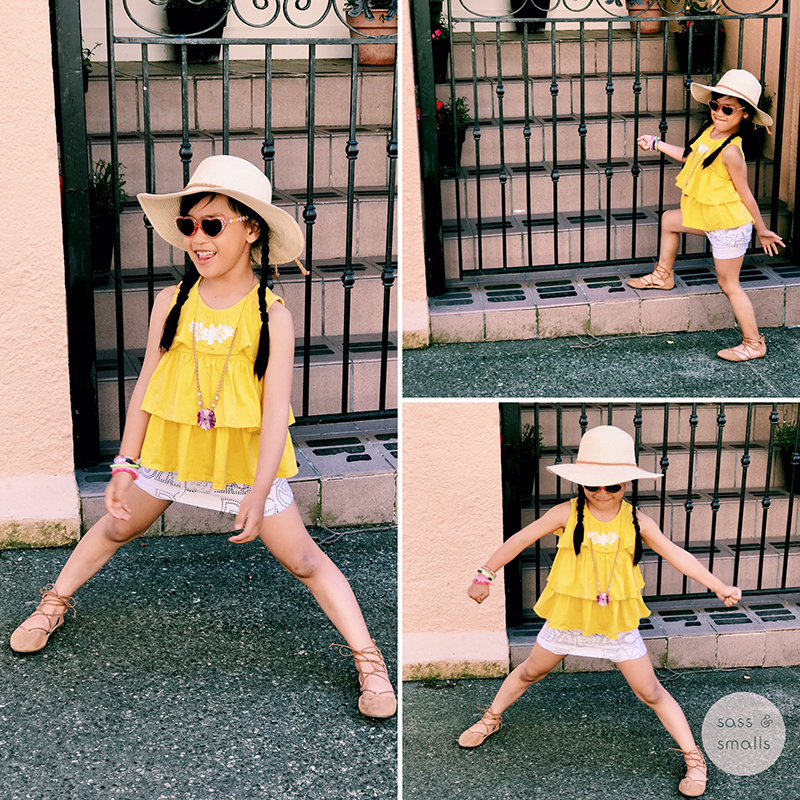 So what to do with a smallie in tow while roaming the streets on a not-so-quiet Saturday afternoon? Here are a few of our favorite things that our little city family enjoys in downtown's core:
RUN ERRANDS
Today's errand was picking up some yummy tea at our favorite tea shop. Little Mama helped me choose which of our favorite poison we wanted to fill our cupboards with. Afternoon decaffeinated tea (and caffeinated for guests, of course) for the win!
Downtown isn't always easy to get to, especially with the littles, so while you're already there – crossing out items from your must-do list is not only a good idea, it's downright brilliant. There are a ton of unique retailers that house many of products the neighborhood shops in suburbia may not actually have. And since you have the whole family in tow, you can put them to work. Plus these monkeys always feel so empowered helping out. So let them!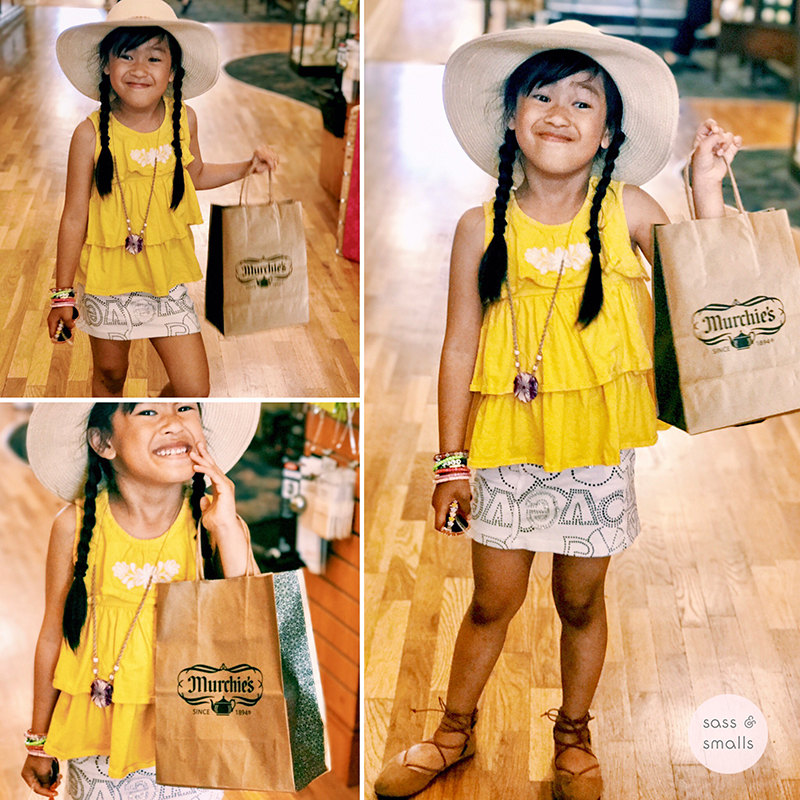 STOP BY THE LOCAL BOOKSTORE
Nothing beats the smell of real books. No, I don't mean e-readers, or our handy dandy smartphone (love those too…) – I mean a good old fashioned page-turning book. Fiction, how-tos, biographies, graphic novels, children's books – anything goes! And why not make a couple coins out of our visit? We like to drop off our used books in exchange for a little cash or credit towards a brand new readable treat for the book worms of our family. A city family in a book store means serious business. Just ask Little Mama…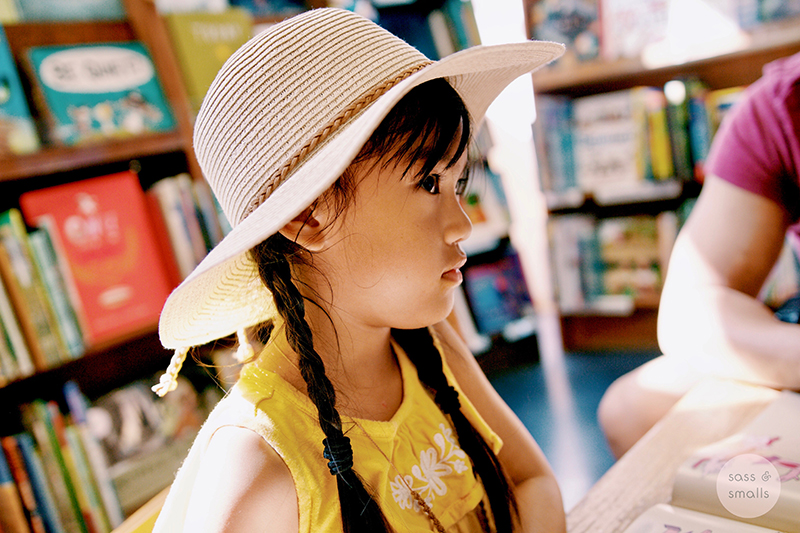 We could spend hours here. In fact, Little Mama had every intention to do so.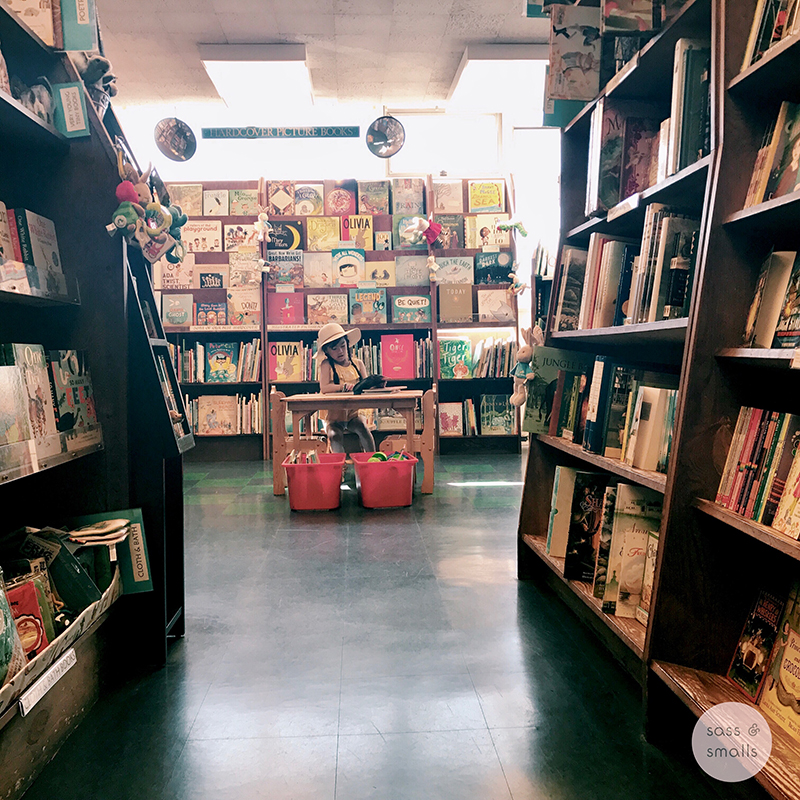 Luckily we were hungry, so leaving her beloved book nook wasn't as difficult as it usually is…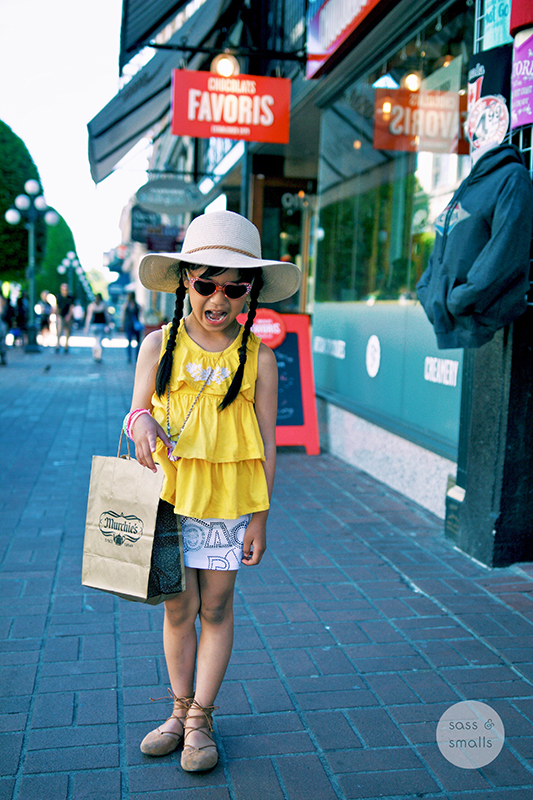 GRAB A YUMMY TREAT
Chocolate dipped icecream at Chocolats Favorit has become our choice dessert pretty much all spring and summer. Little Mama (and her daddy) look forward to our usual icecream break as our busy day of downtown strolling comes to an end.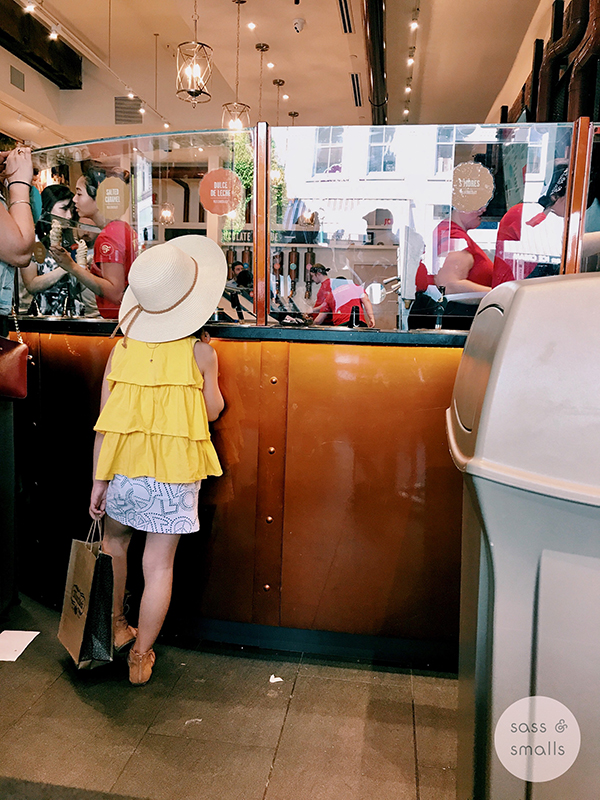 EXPLORE
Ever since I could remember, there was no greater joy for this big/small city family of 3 than to explore the downtown area. There is just so much to see, so many interesting people to watch (but not stare at of course, because that's just rude), and loads of entertainment at each corner. If need be, we can always count on our own little in-house performer for some free entertainment as well.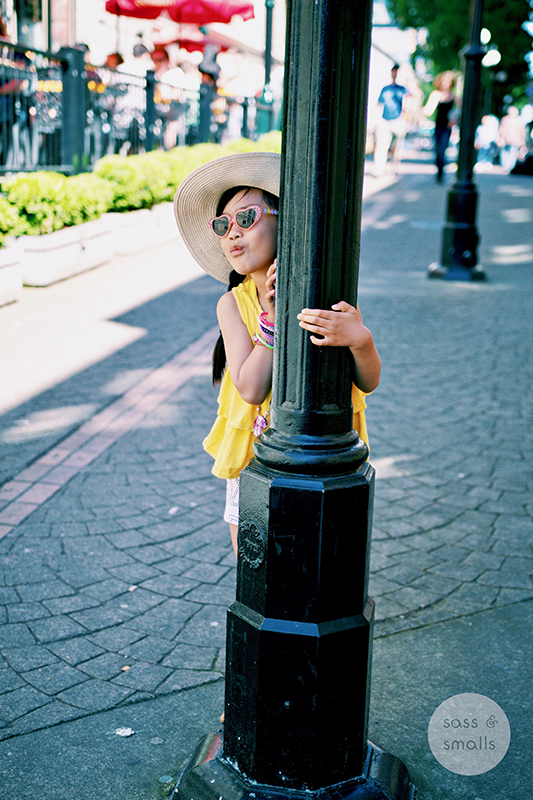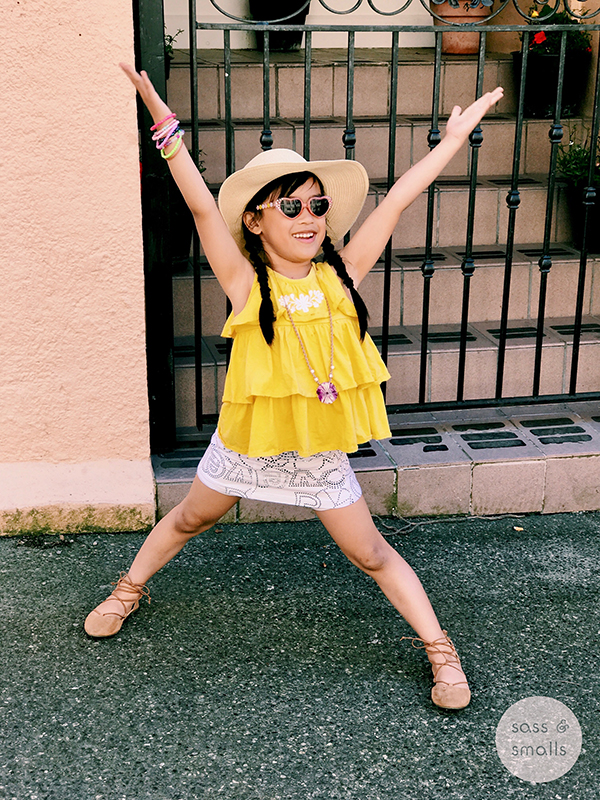 If you think the heart of your city centre isn't the place to bring kids, try it out some time. You might find out that you and your crew are as much a city family as the next guy. Explore the town, listen to the music, soak in the sights and sounds, and just immerse. Goodness knows Little Mama certainly has…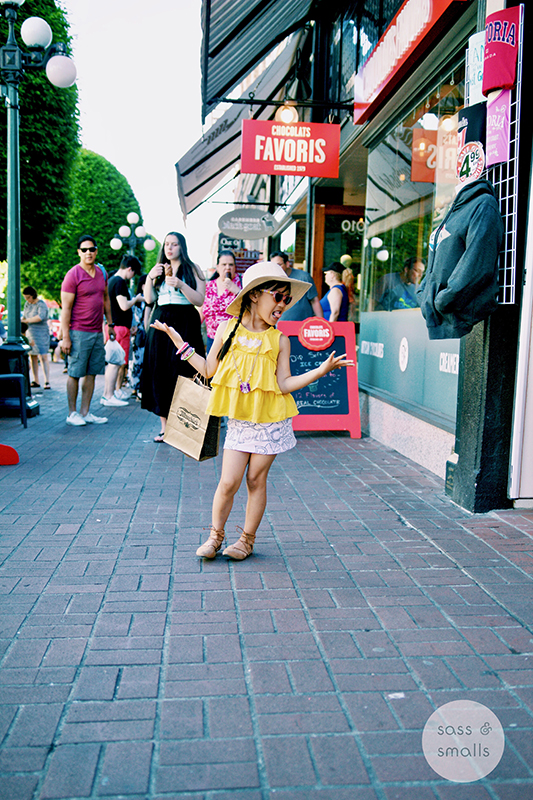 The LOOK:: Want it? GET it!
Sass it out in the city, sister,

"Follow" us, and "Watch" our instastories on Instagram @SassAndSmalls
"Snap" us on Snapchat @babyStylista (Deb of Sass & Smalls)
"Catch" us on YouTube
"Like" us on Facebook
"Pin" us on Pinterest
"Tweet" us on Twitter
"Hangout" with us on Google+
DISCLOSURE: THIS POST CONTAINS AFFILIATE LINKS.