Who doesn't like… scratch that… need a cash giveaway?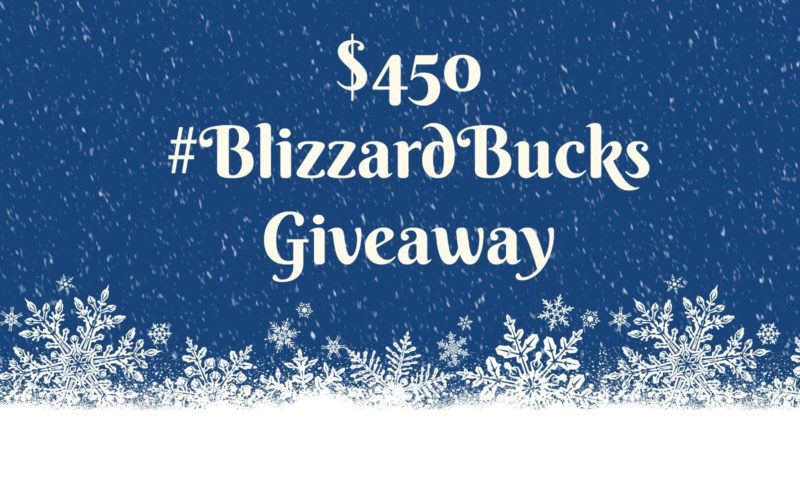 With the holidays approaching, no matter how much we intend to not go overboard with spending, we will spend. It's inevitable. That turkey we're having for dinner? Money. The cards we're buying for all those amazing souls that feed my child knowledge throughout the school year? Money. The doll that Little Mama has been begging Santa for (doe-eyes inclusive), since last Christmas? Money. New boots for her growing feet, to tackle the snow that comes a handful of times a year? Money. Don't even get me started on holiday shipment fees, and long distant calls overseas.
Money.
Money.
Money.
Let's face it – we could all use a little cash to help us through the holidays. A cash giveaway is just what good ol' Saint Nick ordered, and neither he or his elves could come up with something this twinkly, as far as we're concerned. I partnered with some of my fave blogger buds to bring some twinkle to the season, by way of a #BlizzardBucks cash giveaway. Thanks to PayPal, and a plethora of ways to increase your chances of winning, it's an easy entry. You can enter today, and increase your chances daily. It's really that simple.
I can barely keep track of my list of to dos, to buy, and to give. I'm sure I'm not alone in this. I am delighted to be part of the #BlizzardBucks cash giveaway – because it means one awesome reader is going to get their present early this year. Talk about spreading the joy!
:: GIVEAWAY TIME ::
Enter to win this incredible prize of $450 CAD cash. Simply fill out the form below. This giveaway is open Worldwide, but void in areas prohibited by law (ie: Quebec, Canada). For further contest rules, refer to the Terms and Conditions within the Rafflecopter or visit our friends at Maple Mouse Mouse Mama.
Contest closes Monday, December 4th, 2017 – at 11:59PM EST!
The big question is – what would you do if you won $450 CAD right in time for the holidays?
Good luck, and don't forget to enter!

"Follow" us, and "Watch" our instastories on Instagram @SassAndSmalls
"Snap" us on Snapchat @babyStylista (Deb of Sass & Smalls)
"Catch" us on YouTube
"Like" us on Facebook
"Pin" us on Pinterest
"Tweet" us on Twitter
"Hangout" with us on Google+