Check out these adorable Livie and Luca boots…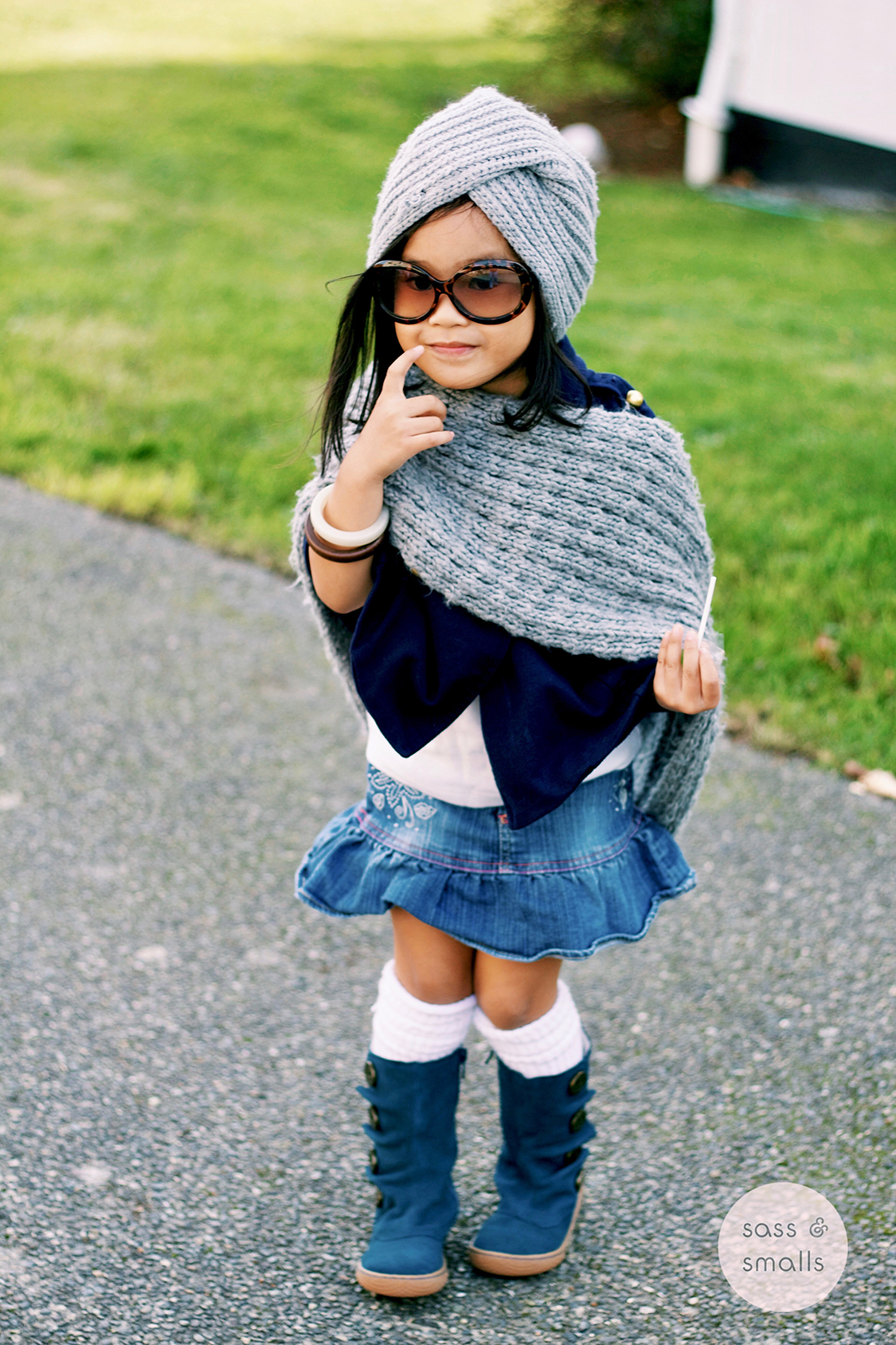 After the holiday rush, it's easy to fall into a new mode…. those good ol' winter blues.
January marks a point of new beginnings, the implementation of new habits, and an overall new attitude towards the coming year. It's also the time when the weather can either take a turn for the worst or for the better. Lucky for us – it's for the better: Sunny, but not terribly warm, cold, but not icicle worthy. So in Smallie's words "It's skirt time!"
Um… not quite, my little one.
My skirt-loving-boot-wearing 6 year old finds every excuse to wear either or both at any given moment in the year. This, is that moment.
Off with the winter gear, and on with her Livie and Luca boots. Her fancy schmancy blue suede Livie and Luca boots.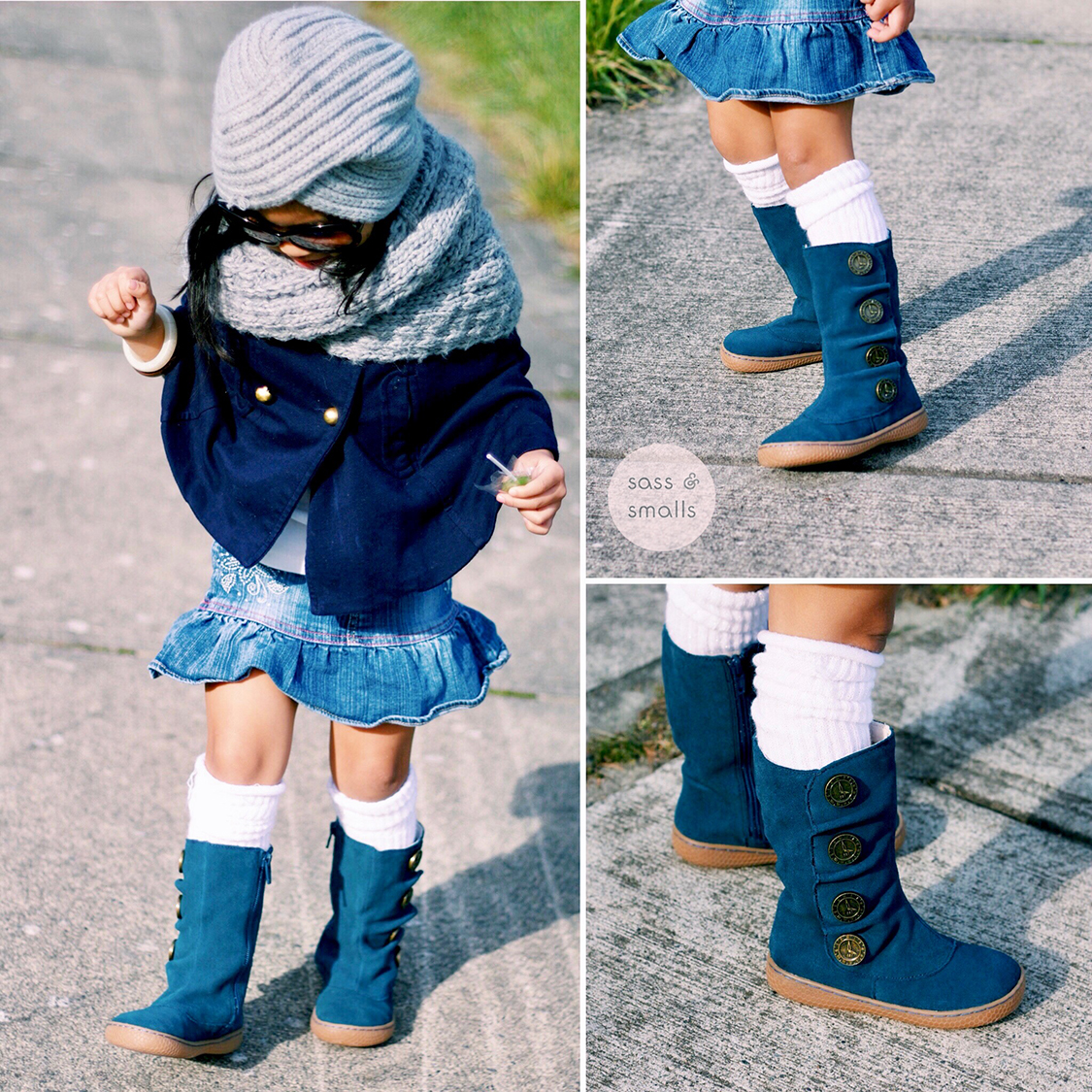 The Marchita ocean blue Suede Livie and Luca Boot (now replaced by the more refined " Livie and Luca") adds a sweet, whimsical touch to Little Mama's shoe collection. She is absolutely smitten by the comfortable lining that keeps her little tootsies warm, the easy to navigate extended zipper, and the leather soles that give her the ability to safely run and play in the winter months. I don't recommend wearing these beauties in the rain, that's what rubber boots are for. But on the dry winter days – this is our number one choice.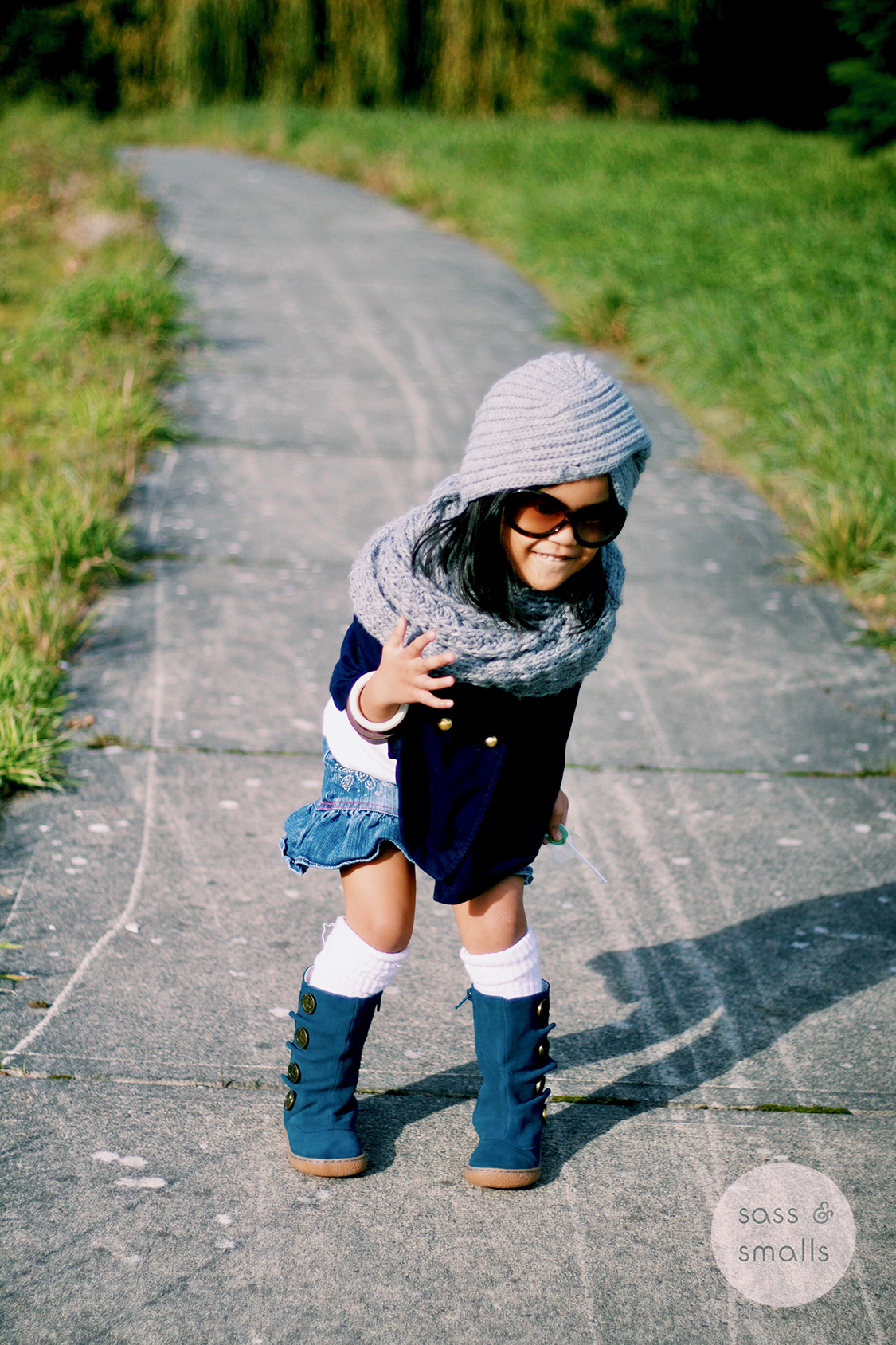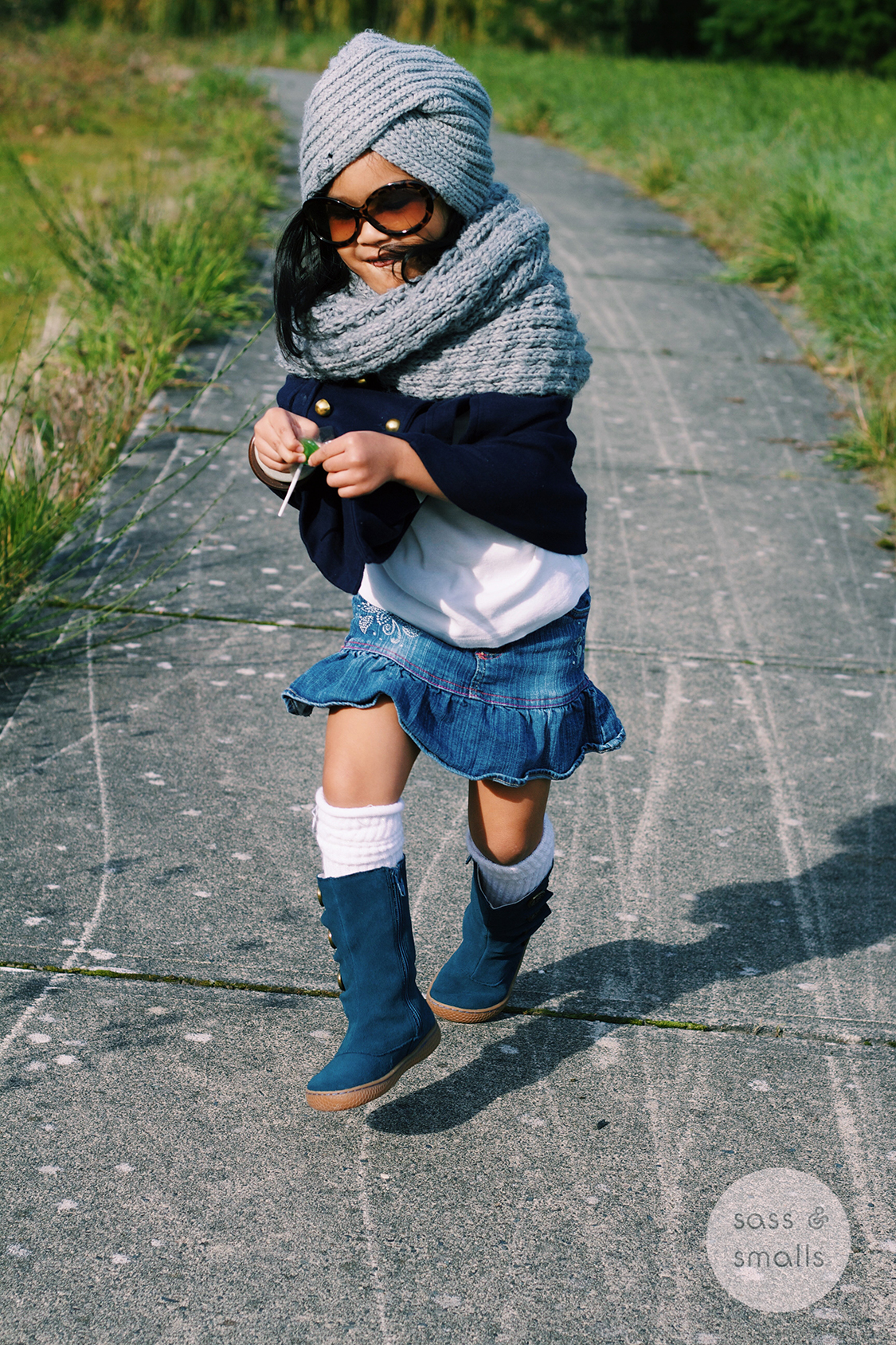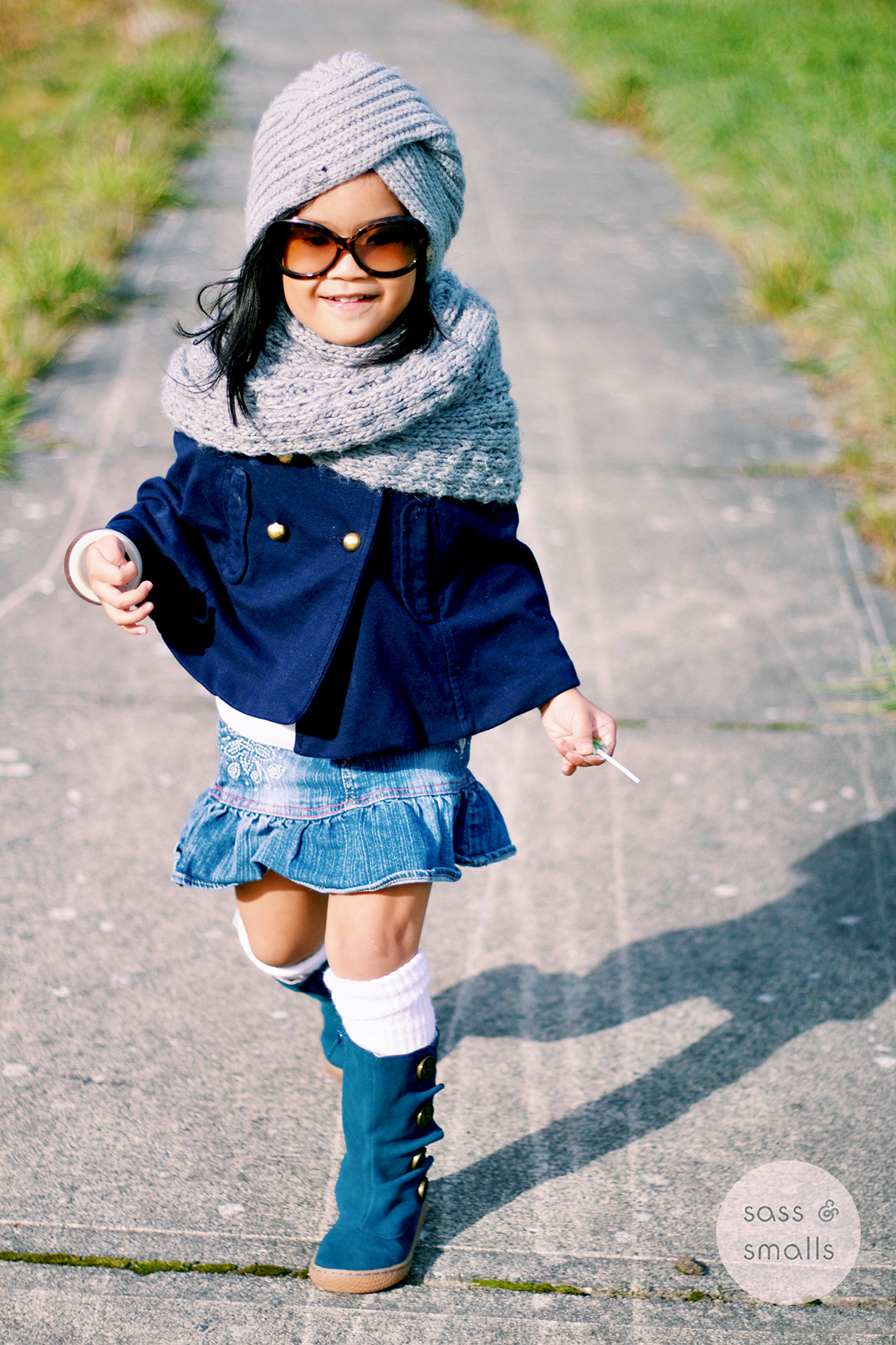 Who could even experience the winter blues when they feel this light and free? I know for me, when I'm freezing my buns off and am covered head to toe in all things fleece, I'm a far cry from feeling cute. So I have to remember to take a page out of Little Mama's book: fight the blues with outdoor wear that's fun and feminine, Livie and Luca boots do their job at keeping Little Mama comfortable, flexible, and warm – and they're pretty darn adorable, to boot (har har). I love their overall boldness and playfulness. When it comes to these little lookers, you simply can't help but stop and well… look.
Throw on her go-to chunky knit infinity scarf and a matching knit turban, an ultra feminine poncho, and knitted leg warmers, and Smallie is ready to get this no-blue winter party started.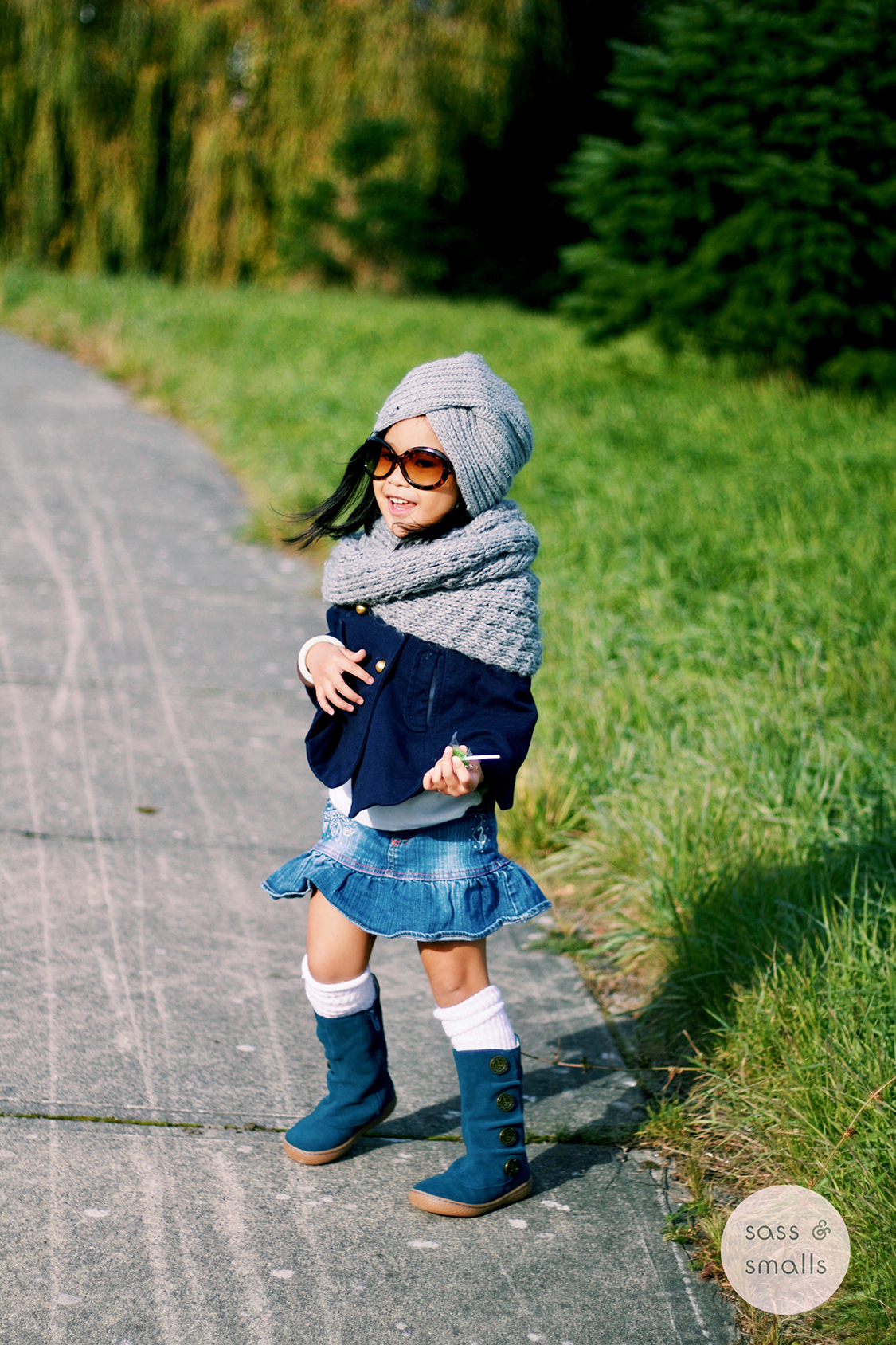 What's one of your go-to looks for winter that makes you (or your littles) feel cute?
The LOOK:: Want it? GET it!
Keep it sassy sister,

"Follow" us, and "Watch" our instastories on Instagram @SassAndSmalls
"Snap" us on Snapchat @babyStylista (Deb of Sass & Smalls)
"Catch" us on YouTube
"Like" us on Facebook
"Pin" us on Pinterest
"Tweet" us on Twitter
"Hangout" with us on Google+
DISCLOSURE: SASS & SMALLS WAS PROVIDED WITH THIS PRODUCT AS A GIFT AND FOR REVIEW. ALL OPINIONS ARE OUR OWN. THIS POST CONTAINS AFFILIATE LINKS.