Frosty the Smallie is up to her old Christmas delivery tricks again. Frosty the Snowman gifts!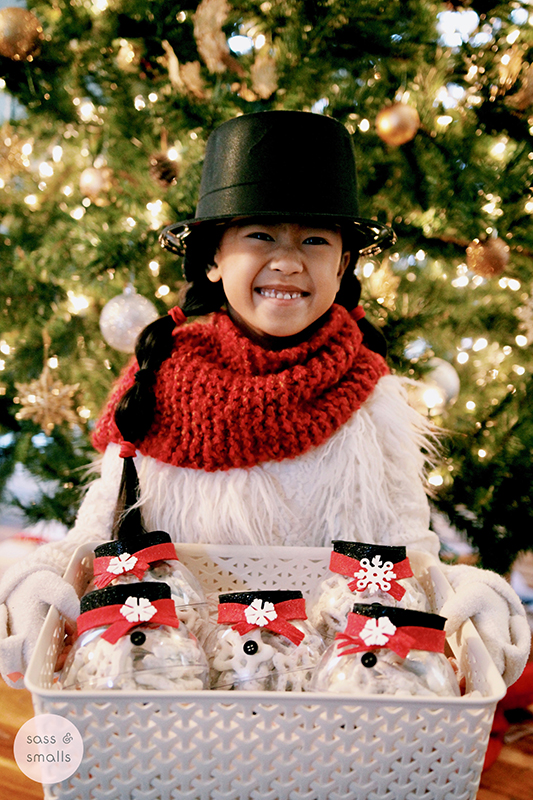 Similar to that of years past, we happen upon a theme that evolves into a full blown plan, as the countdown to Christmas continues. Last year Tiny Rudolph made her Christmas deliveries. The year prior was our little Elf delivering Elf feet. And surprise surprise, her first year of deliveries, she was Mini Santa. This year, Frosty the Smallie – delivering Frosty the Snowman gifts.
As many of our readers know, our little family of three has been through the ringer – like many families. But by some crazy stroke of luck (and a whole lotta prayer), we've managed to come through the other side unscathed. Stronger even. Why? Because, with a little help from our friends, we get through the everyday, and not so everyday challenges life throws our way. So every Christmas, we want to extend our utmost gratitude to these very people with our little tradition of mini gift drops from Smallie.
It's become a ritual for us, and now that she's in school full time, I was concerned that we wouldn't be able to swing a whole day of deliveries. It took some careful planning, but we managed to squeeze in some Frosty the Snowman gift drop offs in between mandatory medical visits, so playing hooky didn't even have to be an option. Most of our gifts are for our medical team anyway, so win win.
Like all the other thematic deliveries of Christmases past, it evolved gradually. We started off with our gift wrap.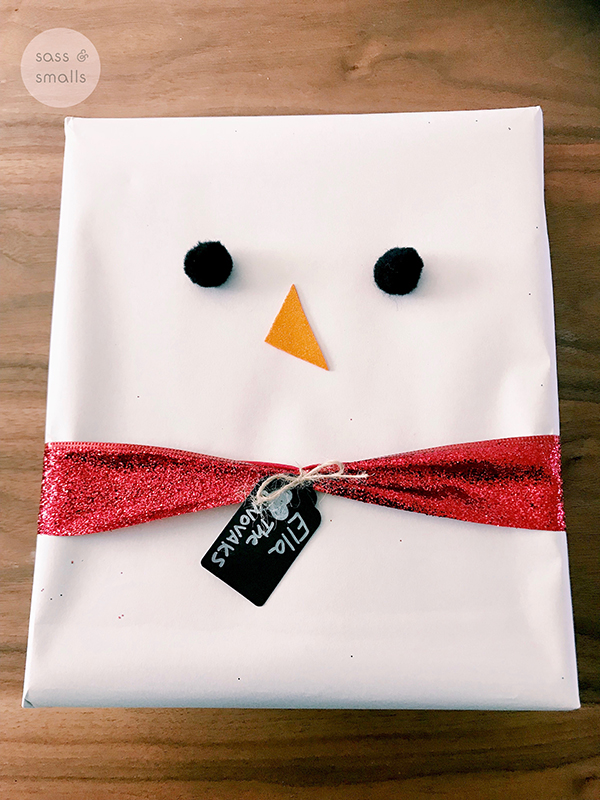 It's been a year of out-of-pocket medical and fertility expenses for 2 members of our family, and our wallets have never felt so light. So we decided it made the most sense to work with what we had, instead of contributing to the 3.2 billion dollar gift wrap industry – at least this year anyway. Little Mama had a giant roll of White Ikea Mala Drawing Paper
that cost all of $12.99 from years ago (and yes, it wrapped ALL of our gifts with plenty left over!). She also happened to have tons of black and red 1 inch Pom Poms
and random pieces of self-adhesive sparkly foam (apparently, my wallet wasn't as empty back then. <Insert my husband's rolling eyes here>). I picked up a big roll of Red Sparkle Wired Ribbon
from Michaels as well as No-Sew fabric Glue
and got to work.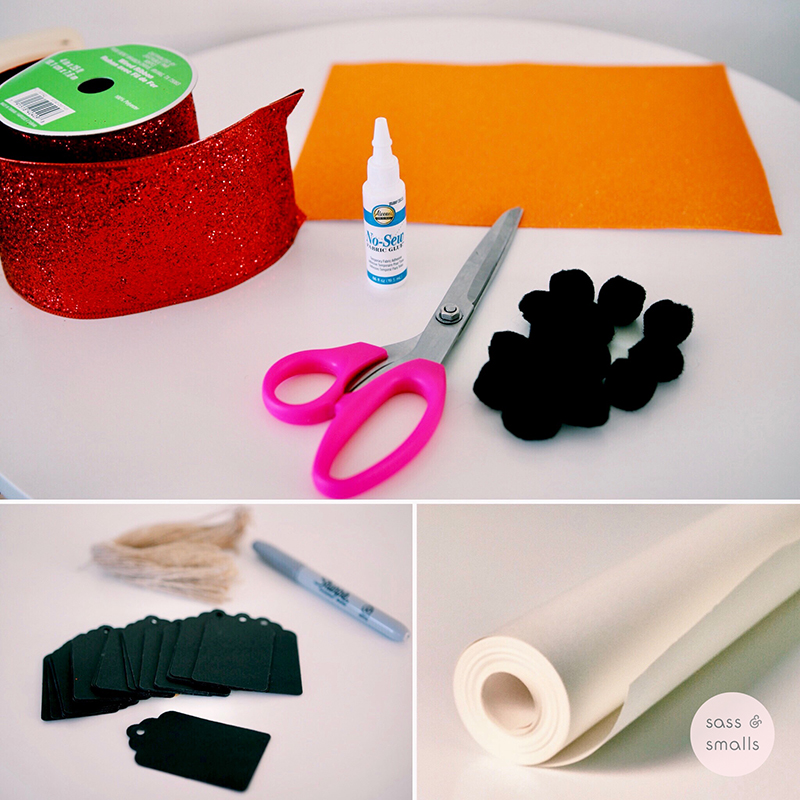 And out from nowhere came these easy peasy lemon squeezy Frosty the Snowman Gifts! It took no time, at all, and we both enjoyed every minute (or 45) of it.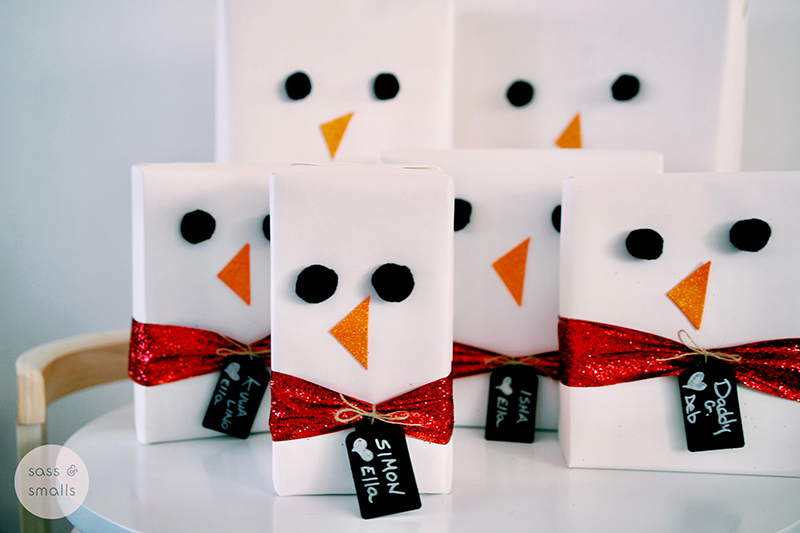 We had some Brown recycled paper
too, along with Super Fuzzy Green Pipe Cleaners
and Self Adhesive Plastic Googly Eyes
(my husband is still rolling his eyes at our barely utilized craft closet), so we threw in a handful of Rudolphs to balance things out.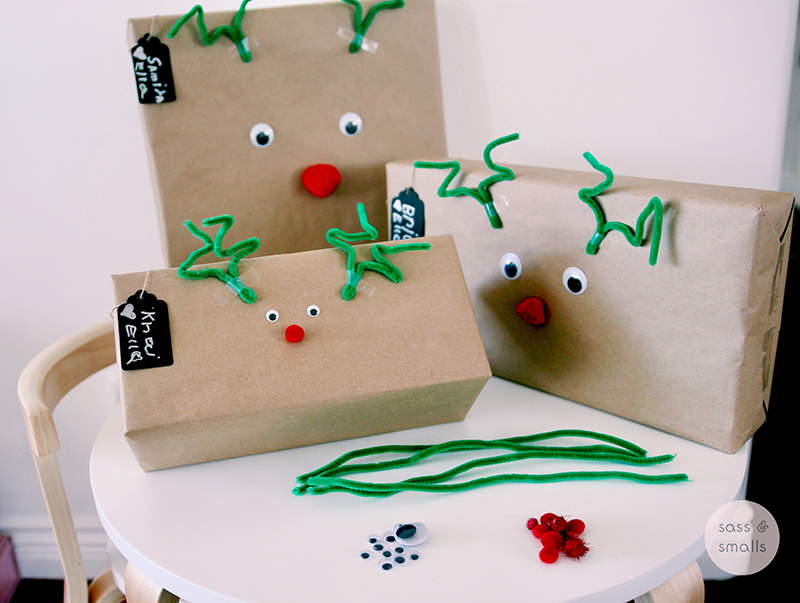 I never realized how fun thematic Frosty the Snowman gifts (sprinkled with some Rudolph accents) would look under our sparkly tree. We had so much fun putting it together, I almost forgot there were actual presents under all the wrapping.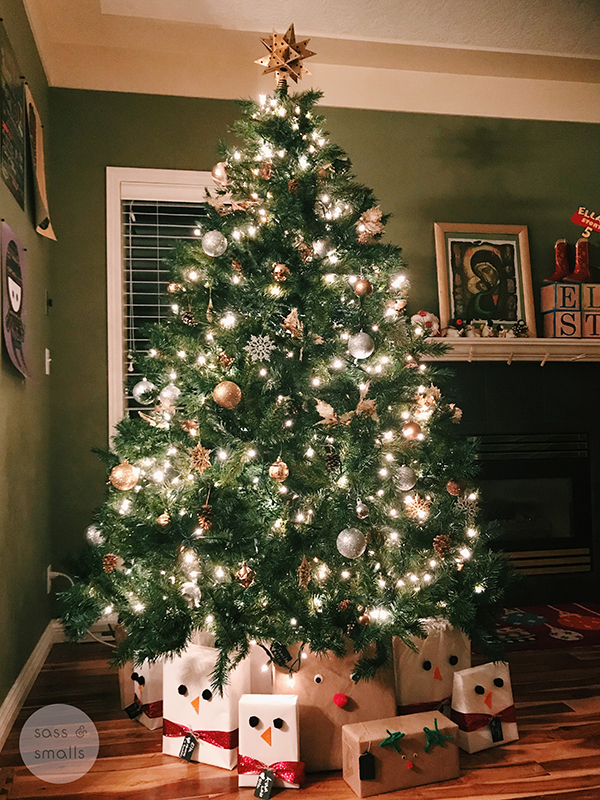 Up next, was our classroom Frosty the Snowman gifts. Kids go crazy for hot chocolate, don't they? I bought 2 boxes of Nestle Coffee Crisp Hot Chocolate with individual sachets. I covered them with cut up envelopes (you can just use two pieces of card stock to cover each individual sachet), and threw on some glittery orange for the carrot nose, and some leftover Removable Black 1.5″ dot stickers for the eyes.
Yes – I had some black foam on hand for the hat (I'm finding one should always have black foam sheets as an essential in their craft closet)
and red self adhesive glitter foam
for the accent. I picked up a couple sheets of Snowflake foam stickers
for added effect. And threw all of that and a couple handfuls of Mini Marshmallows
in a mini cellophane baggy
.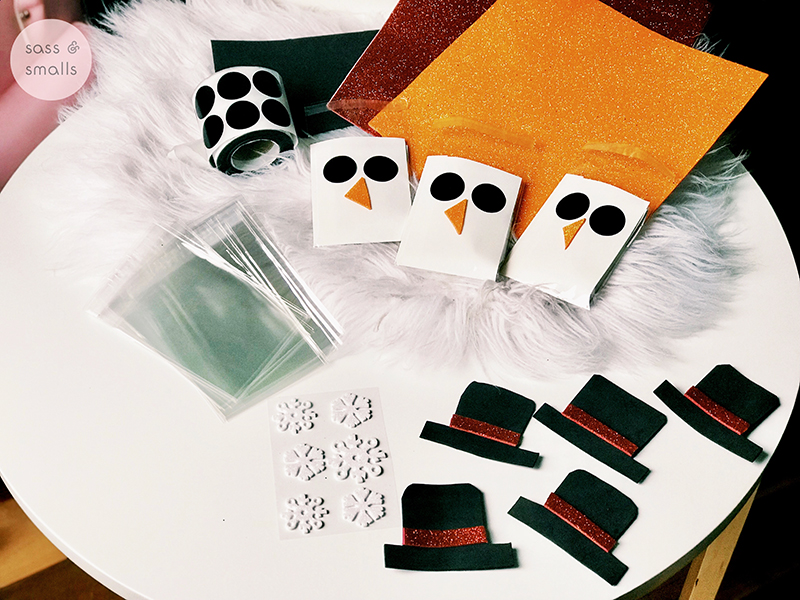 If I could do it all over again, I would grab dots closer to 1/2″ as these little guys look less Frosty and more Owl-y. But they're for a bunch of 6 year olds. They just want their hot cocoa – owl-y or otherwise.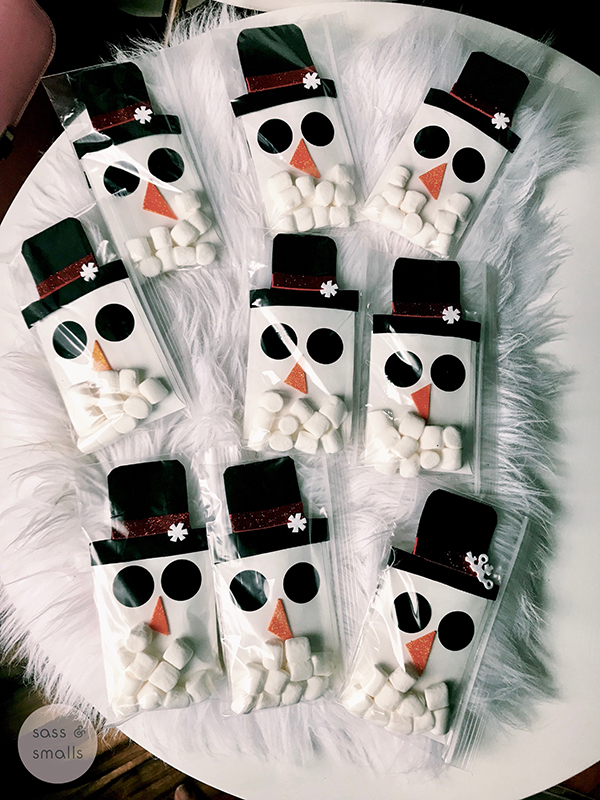 For the folks we wanted to thank that aren't necessarily in offices and would also enjoy a couple cups of hot cocoa – we decided to utilize flat clear plastic Ornament Discs and fill them with extra rich chocolate mix and more than a couple handfuls of mini marshmallows. Make sure to find ornaments that have wide enough openings for the marshmallows to come out. And don't forget the adorable Kraft Paper Tags Gift Tags with Twine
to finish it off. These guys were a hit!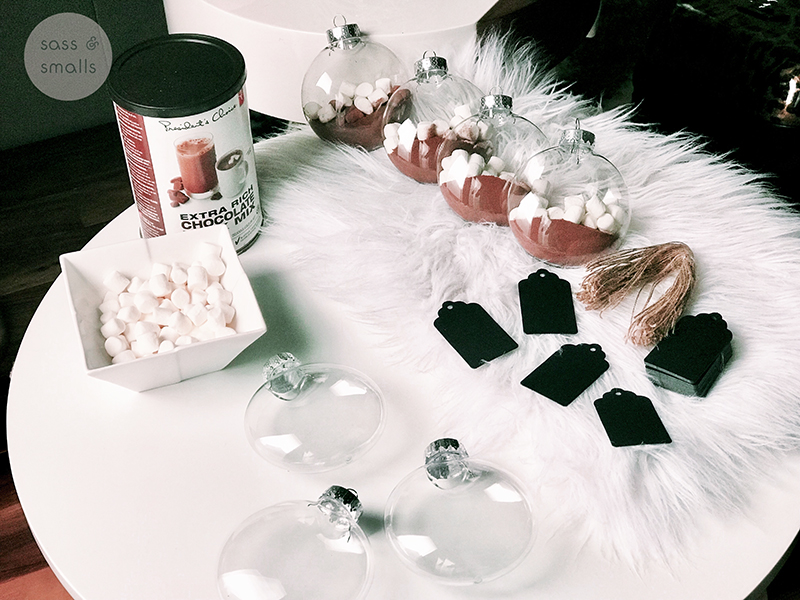 And now… for the grandpoppy of Frosty the Snowman gifts for office sharing. Frosty himself!
I'm by no means, a baker. I'm more of a melter, pourer, dipper, wait-er, and refridgerator-er. Meaning to say – this was the easiest thing ever, and if I can do it, so can the rest of the world. White chocolate pretzels. I got the very limited, no brainer steps here. And if you're feeling extra fancy, try the white yoghurt chocolate pretzels. Either way, they're easy, and delicious. If these fine folks don't feel our love and gratitude with the delectable mix of savory and sweet – I know nothing. How yummy do these look right?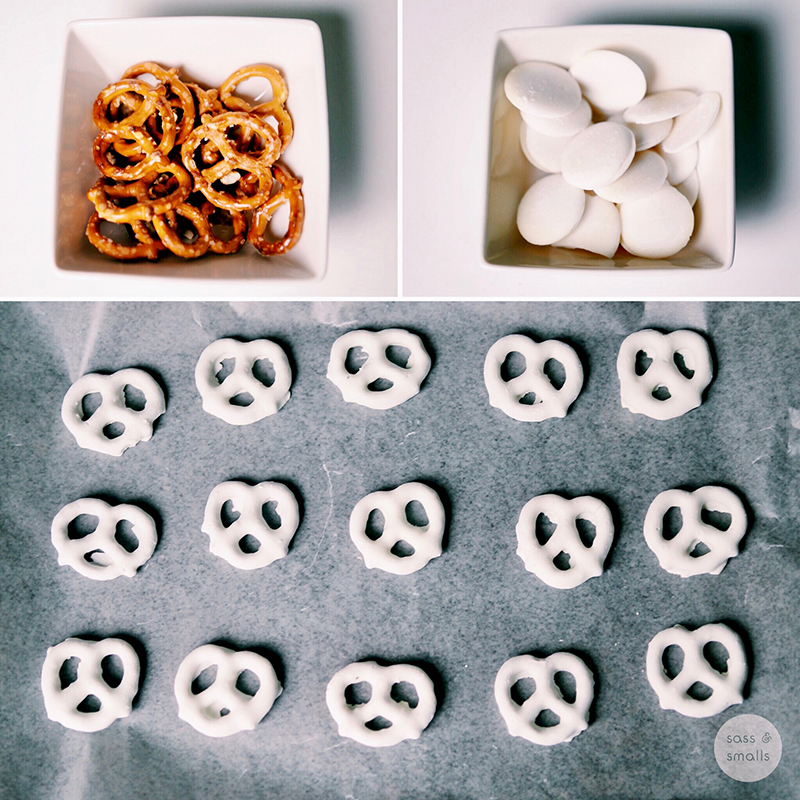 I always had in mind how we wanted these presented. I was inspired by this adorable mason jar snowman gift. But since Smallie is handling these little guys, I wasn't about to hand her a tray of heavy glass mason jars. So we got our hands on these awesome larger than life Plastic Ball Ornaments
. Since they're more on the pricier side, I only made these for our office, family, or group drop offs. This is definitely a shared gift. And a yummy one at that.
To make things as uncomplicated and as thrifty as possible – I bought one sheet of glittery red felt for the scarf, a bag of small buttons as an added embellishment, and utilized our glitter foam sheets for the hat and glue that we had for our other Frosty The Snowman gifts. The hat was a simple round cut and one long piece to give the hat some height. We need this height to wrap the scarf around it. The jewel fabric glue was tricky on the plastic, but after I let it sit to dry, it was by far the best adhesive for this type of project. Like the hot cocoa gifts for Little Mama's classmates above, the foam snowflakes were the final touch.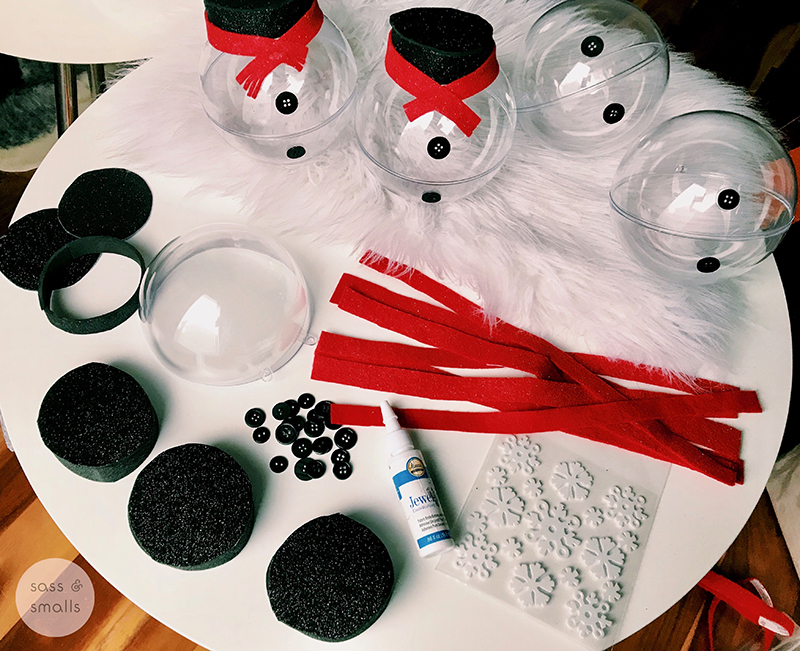 My little elf did her part and filled each ball with a generous amount of treats, but only while fueled by a couple bites for herself. Don't worry friends – her mommy's a stickler for handwashing, so we're all good in that department!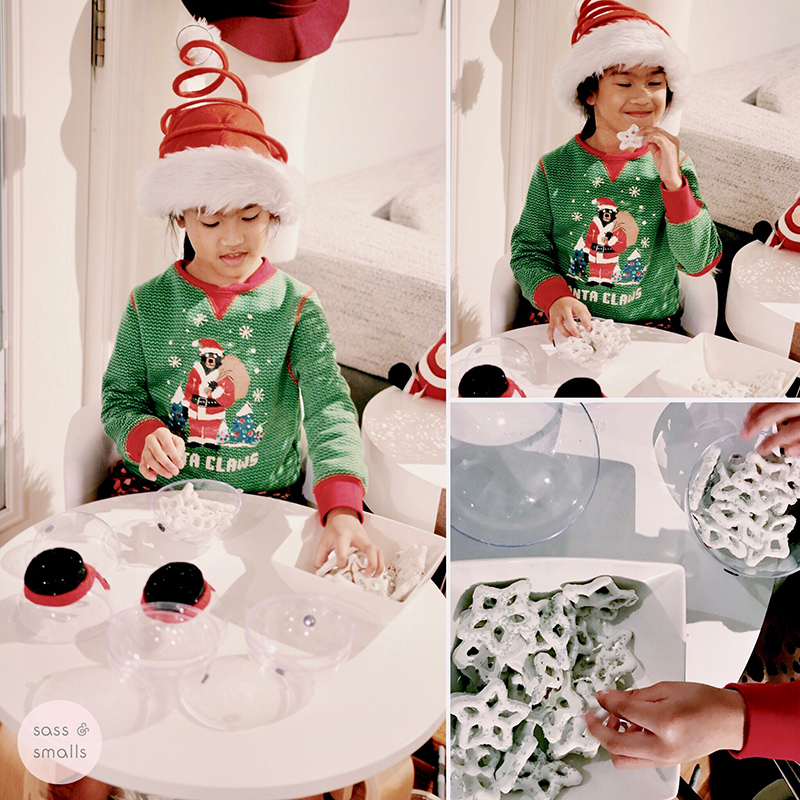 And voila – Frosty the Snowman gifts!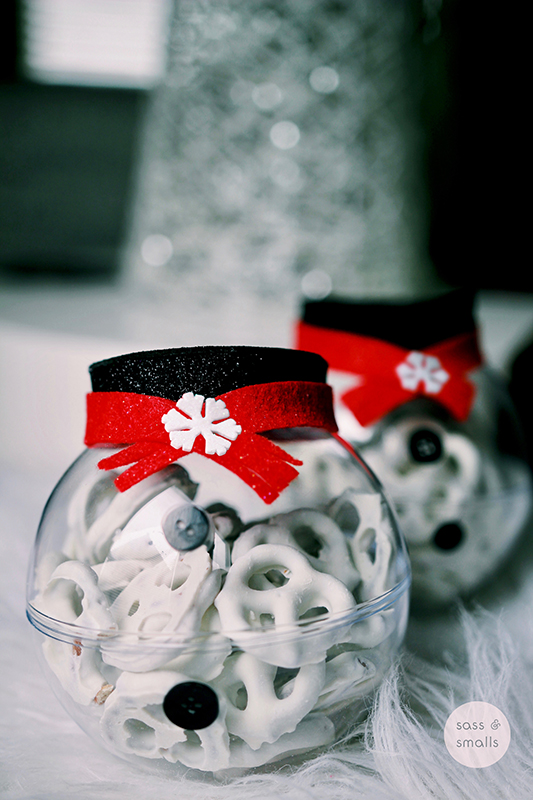 Now it was time to get the outfit ready. I spent our weekend up on the ski hill knitting her red snowman scarf that later accidentally turned into a last minute infinity scarf. And yes, we had a plastic top hat from a magician party I was about to hold for her (that inadvertently turned into an Aladdin party) when she was four. And THIS is why I keep things JUST IN CASE (much to my husband's chagrin).
Side note: I do not knit. But when desperate times call for desperate measures…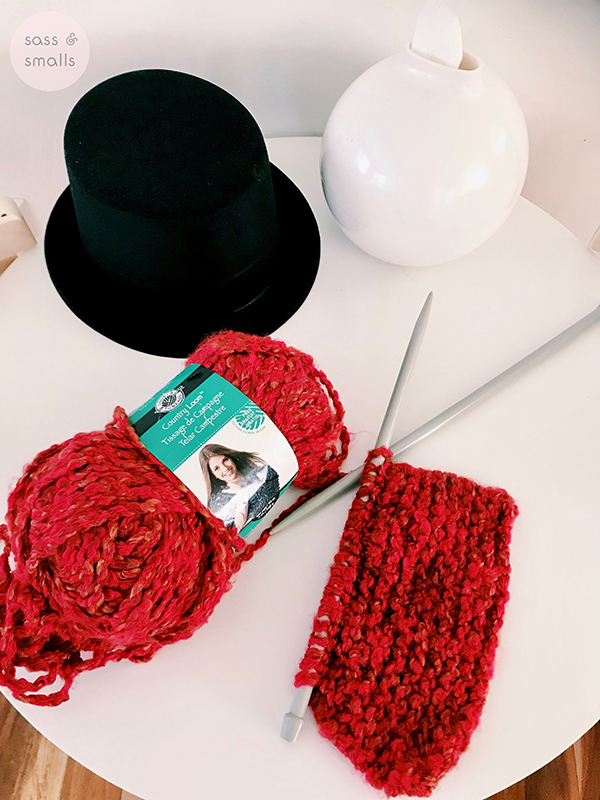 Here's Frosty the Smallie in all her Frosty the Snowman gifts and delivery glory! All proud of her creation (with a little help from mommy). But mostly – she's excited to see the faces of all the people she wanted to thank personally this Christmas.
And so it began. The police department, our dentist, our priest, our family doctor, her pediatrician, the lovely woman who helped us with our burial arrangements and grief, and of course, the miracle workers at the fertility clinic. After all, Smallie's biggest wish to Santa is to finally have her baby sibling. We'll have to see if one day that will come to be…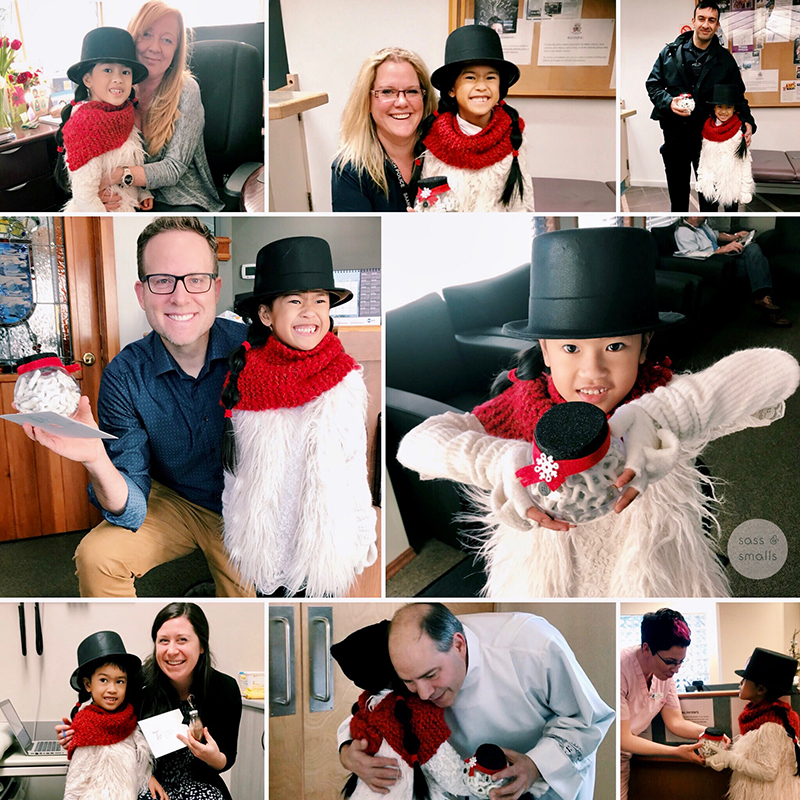 But the highlight for Smallie (and any 6 year old Frosty delivery kiddo for that matter) was her drop off at the firestation. Oh my goodness, these heros gave my little Frosty an experience she'll never forget. They took out one of the trucks, let her sit in it and turn on the siren. Which scared the snow outta her, but that was soon forgotten when they sang and danced with her around the station. These aren't just heros, they are amazing human beings. And they LOVED Frosty the Smallie's surprise treat, and did they ever show her how much!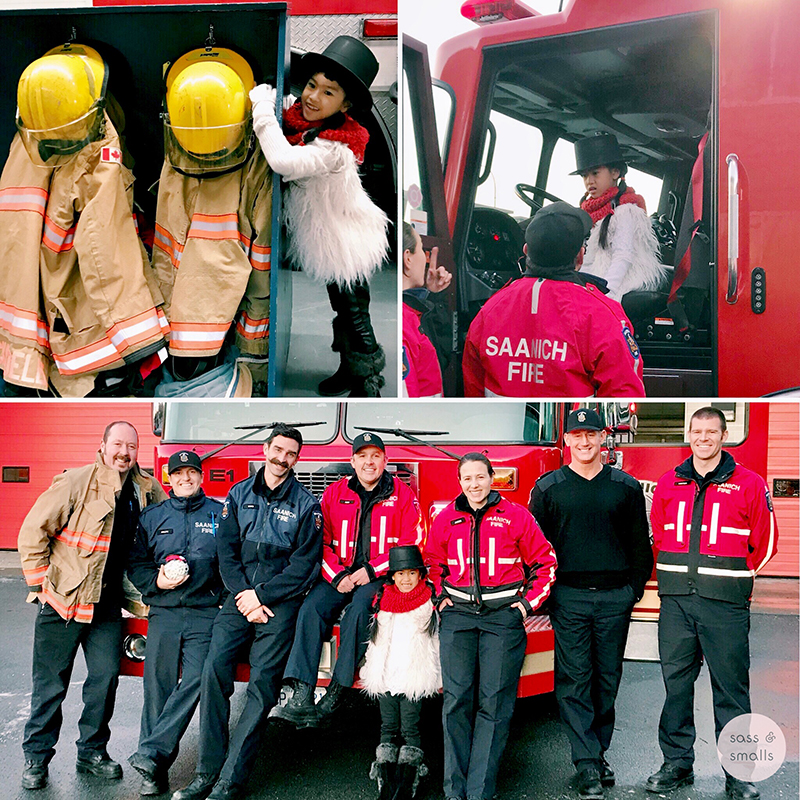 Our day of drop offs can never end without my baby visiting 'her' babies. Every holiday (and at least once a month) we visit our angel babies who have taken up a lot of real estate at the Little Spirits Garden at the cemetary. During Christmas, Smallie likes to visit to show her bragging rights of all the good stuff going on in her life. This particular moment she wanted to show them her fabulous outfit and coordinating treats she brought around the city. She decided they weren't hungry enough to want one for themselves, but "they sure were proud of their big sis". Ugh. That's enough to break my heart in two, but I am so in love with the kind of love she has for her siblings gone too soon. They sure inspire us to be better people.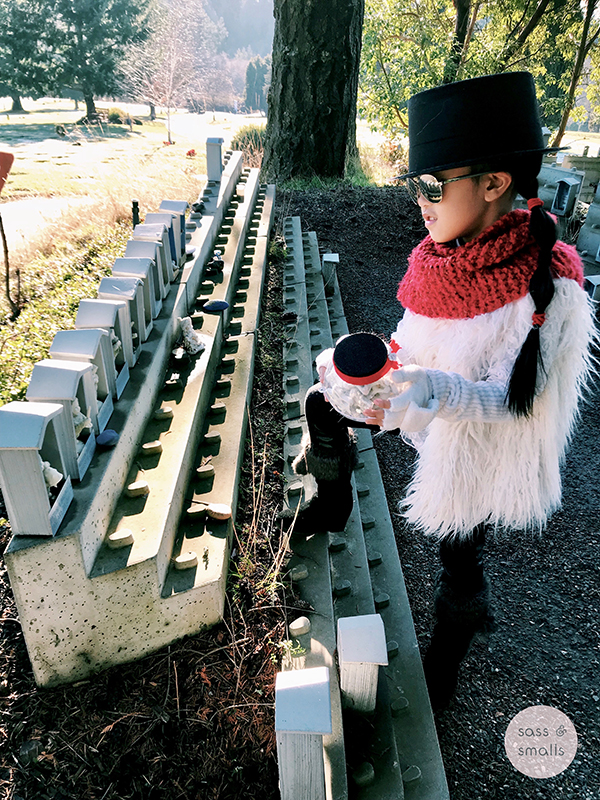 We wish all of our friends, readers, and visitors the most amazing Christmas and blessed new years! Frosty the Smallie is so thrilled you stopped by for some Frosty inspo.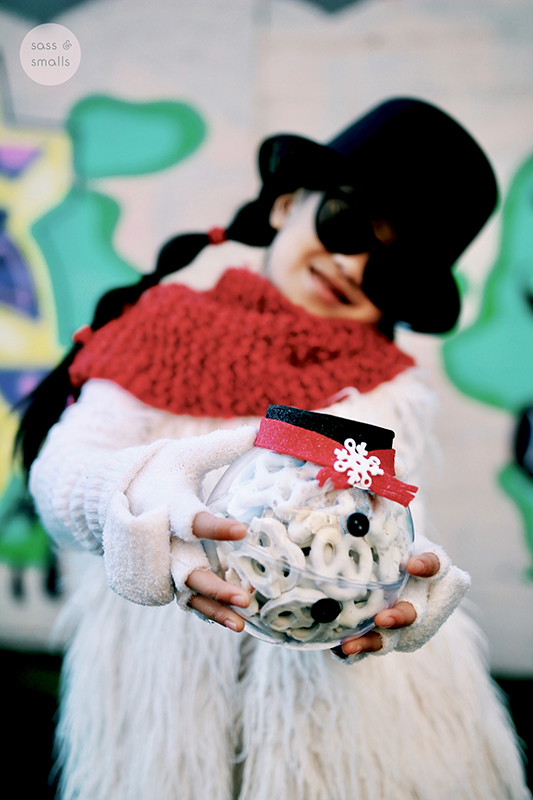 As I write this, Smallie is handing her treats to her teachers and support staff at her school as a thank you for giving her the best gift of all – knowledge :).
Be sure to take some time to be good to you, and love on those awesome people around you that give you a reason to smile this beautiful holiday!
Christmas blessings to you and the Mini Frosties in your life!

"Follow" us, and "Watch" our instastories on Instagram @SassAndSmalls
"Snap" us on Snapchat @babyStylista (Deb of Sass & Smalls)
"Catch" us on YouTube
"Like" us on Facebook
"Pin" us on Pinterest
"Tweet" us on Twitter
"Hangout" with us on Google+
DISCLOSURE: THIS POST CONTAINS AFFILIATE LINKS.