I have a little girl who is 1/4 princess, 1/4 baby (#sorrynotsorry), 1/2 monkey. Monkey breaks down even further – 1/2 tomboy, 1/2 unabashedly headstrong. She's a very complex little girl. And I'm in love with every inch of her complexity. After all is said and done, this headstrong, princess-y, rough 'n tumble, rambunctious little monkey, is still a girl.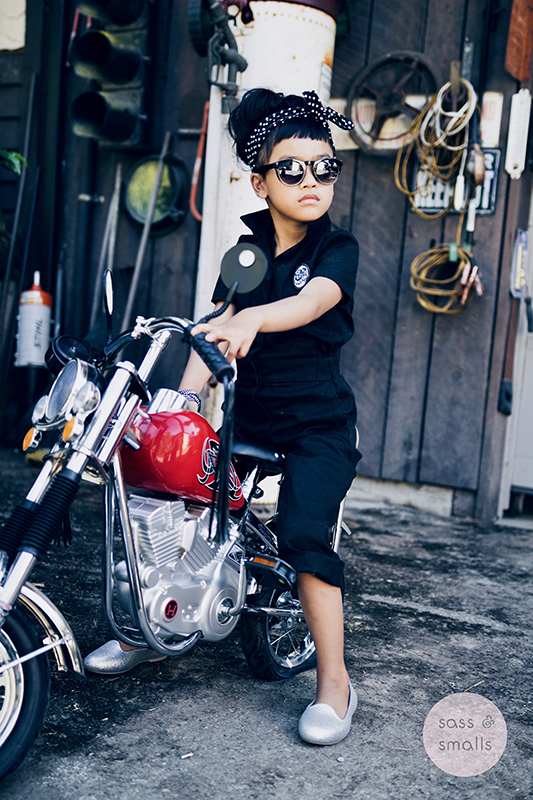 Still a girl has always been such an inspiring campaign in its ongoing mission to redefine what it means to be a girl.
This is mine.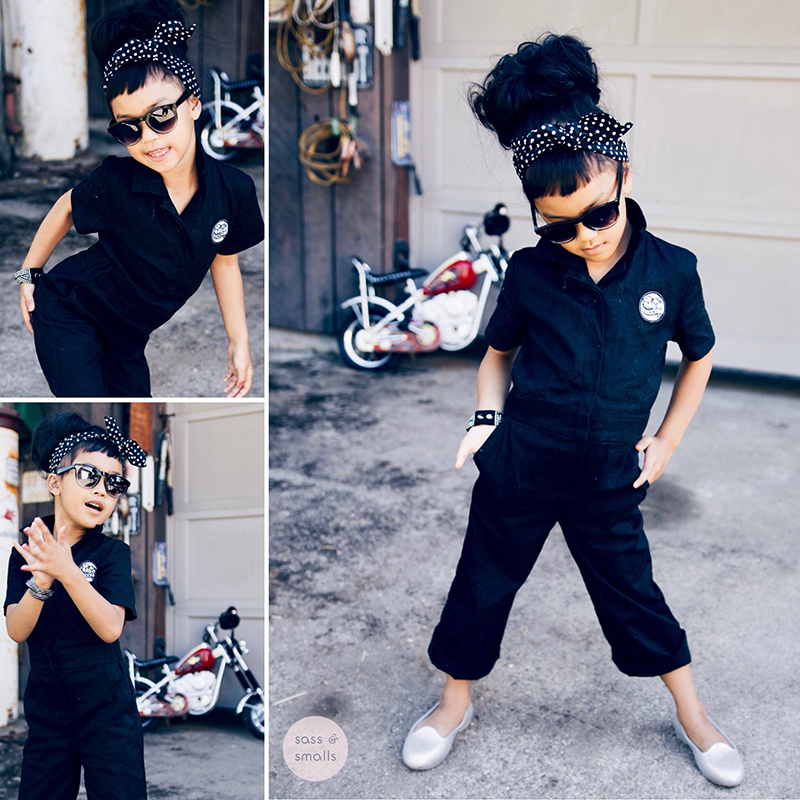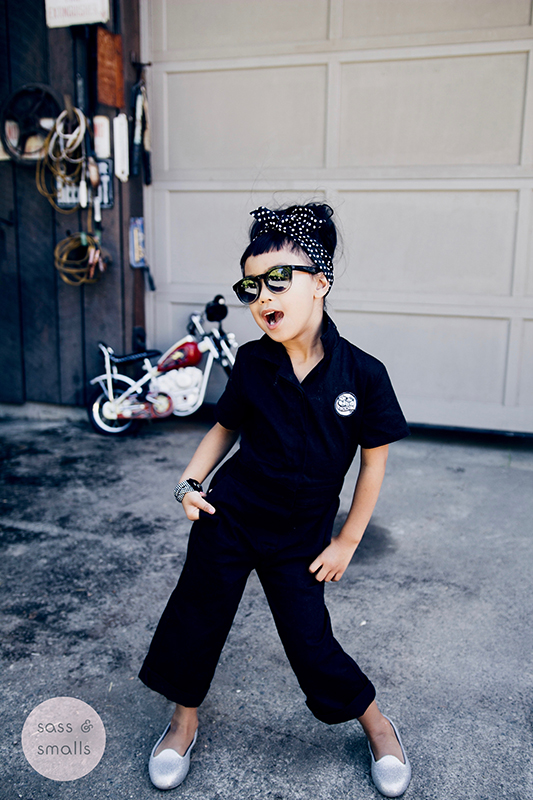 I was brought up in a different time. Was I still a girl? Well – by society's standards, I was sugar and spice, and everything nice. Pink dresses, ribbons, polite, quiet, doll-crazed. So yes, I was "still a girl". But what was interesting, was the fact that I grew up with an older brother whose mission in life was to use me as his personal football. I had to keep up with him, and I didn't mind one bit. Except for the fact that keeping up with my big brother in a lace dress and patent leather maryjanes was just not working out for me. So for practicality reasons alone – I had to switch things up with the ol' girly-girl warddrobe.
Bring on the sneakers, ripped jeans, and baseball caps. Hooray!
Cut to present day. I still like your everyday fancy dress and pretty heels, but I'm most comfy and most myself in my cotton stretchies (low crotch please), chucks, and Leia buns. Am I still a girl? Of course! Only now I'm just a comfy, and happy one.
I see how my Smallie is following closely in my footsteps, and I'm thrilled. At least in that arena. It's not that I have anything against curls and frilly dresses. No judgement – my current favorite color is powdered pink! It just gives me great joy knowing that Little Mama is so comfortable in her own skin, wearing what she chooses (even if it's not necessarily my first choice, and believe me, those days happen more often than not – hello bright green socks, rainbows, and polkadots), and going against society's expectations of her. I love her confidence. I love that she really doesn't care what people think about how she looks, what she wears, and how she plays. And I love that she embraces playing in dirt and watching car videos while enjoying a tea party in her tutu. And I love that she knows that no matter what, she is still a girl, through and through.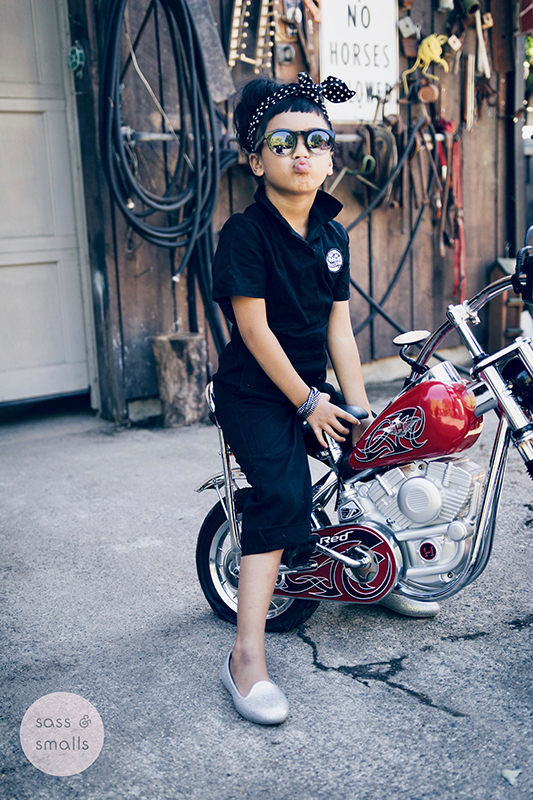 We are especially thrilled that Smallie has her own pair of Grease Monkey Coveralls from Knuckleheads Little Threads. She had a ton of fun visiting our good friend's gym where there was an incredible garage adorned with vintage decor (thanks for the photo op Kristie at Chikara Fitness). She most definitely dressed the part and was more than ready to get a-fixing. I absolutely adore the thick comfortable cotton twill, the loose fit, and the moderately cinched waist. It was an easy on and off situation even with the button fasteners (our next order will be the front zip for obvious reasons), but at no time did my faboosh little mechanic ever had the inclination to take it off, since she knew she looked as snazzy as she felt. Why fix what's not broken, right?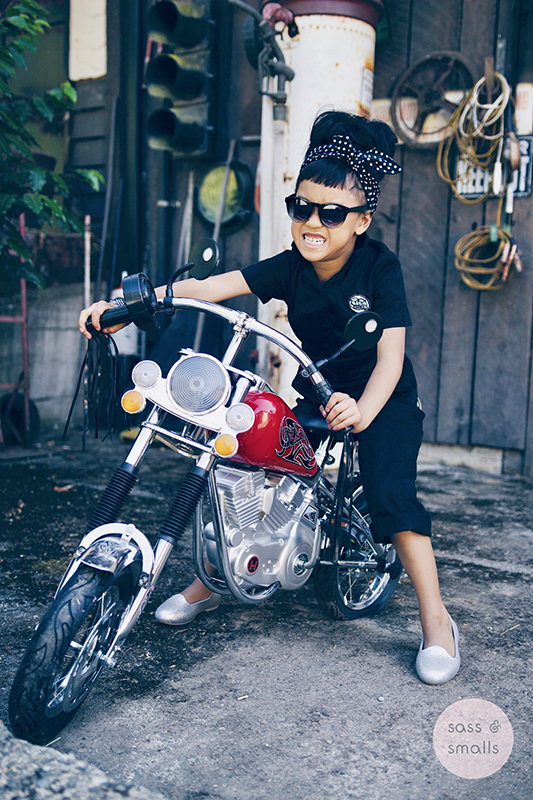 The best part about embracing the inner tomboy chic that is my 6 year old daughter – is the confidence oozing out every outfit she decides to wear that day. Topped off with an equally confident knotted Retro Wired Headband Scarf
embellished in polka dots, her go-to Eve Sparkle Flats from Crocs, and let's not forget her signature Jr. black gradient round sunnies
. Because how she choses to dress (and accessorize – with a little help from her accessory-loving mommy) is a direct correlation with how she wants the world around her to see her. So – why not let the world see exactly how she feels? This particular day, she felt the most herself.
She felt playful.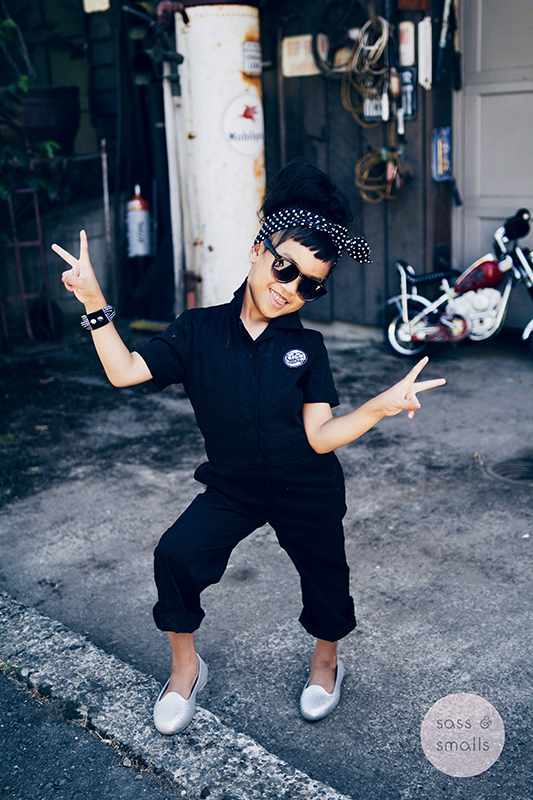 She felt tough and empowered (She actually refers to her bike as her "bad girl" bike. True story)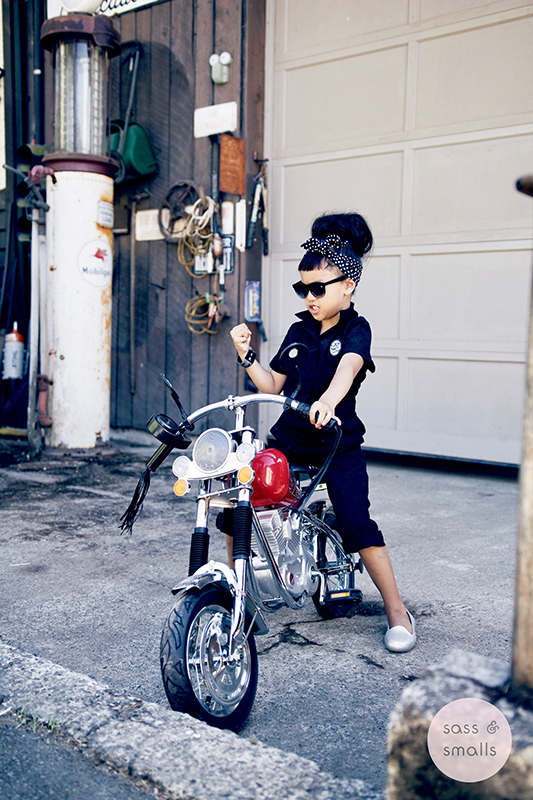 She even felt fancy and all around fabulous.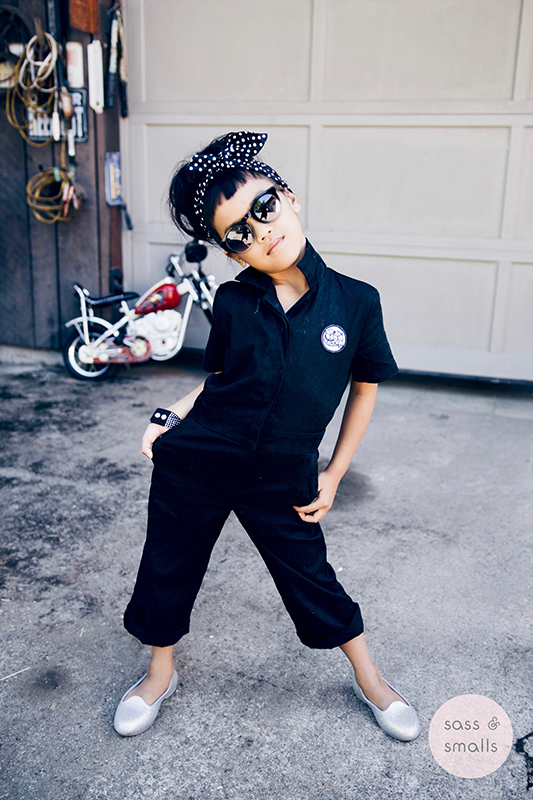 But mostly, she felt comfortable in her own skin.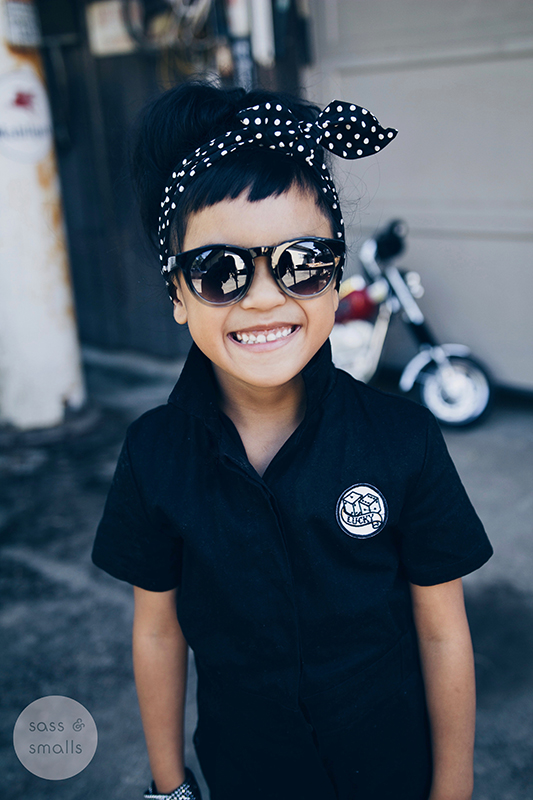 And that's all that matters.
So if our little ones want to play dress up in what seemingly contrasts what we believe our kids should be wearing – it may be worth revisiting our own childhood and remembering when we felt our most confident and the most ourselves. Do they want to wear fairy wings and ski goggles to the grocery store?
Let them!
Bright Green sneakers, purple MC Hammer pants with a tie die jacket (I know it kills you, but…)
Let them!
Let's fight the urge to project our own style sensibilities on to our kidlets (I am definitely guilty of that – but Little Mama has rejected my choices on many occasions, and I'm finally okay with it… ish).
:: GIVEAWAY TIME ::
You know us – Smallie can't possibly showcase her fave rompers without offering a pair to one of our wonderful readers! Enter to win a pair of these adorable Grease Monkey Coveralls
from our friends at Knuckleheads Little Threads
. Simply fill out the form below. For further contest rules, refer to the Terms and Conditions within the Rafflecopter.
Contest closes Thursday, December 7th, 2017 – at 11:59PM PST! The winner will be revealed Friday December 8th, 2017!
Leave a comment below and enter to win this adorable pair of Grease Monkey Coveralls for your little one. What's your kiddo's personal style? And if you don't have kids (or if you'd rather answer this question) – what were your go-to choice oufits that helped you feel the most "yourself" as a kid?
The LOOK:: Want it? GET it!
Please be sure to visit our friends at Knuckleheads Little Threads and check out some of the cutest threads for your little monkey! And if you love giveaways, be sure to take peek at some here.
Embrace the faboosh grease monkey in you (and your little one),

"Follow" us, and "Watch" our instastories on Instagram @SassAndSmalls
"Snap" us on Snapchat @babyStylista (Deb of Sass & Smalls)
"Catch" us on YouTube
"Like" us on Facebook
"Pin" us on Pinterest
"Tweet" us on Twitter
"Hangout" with us on Google+
DISCLOSURE: THIS POST CONTAINS AFFILIATE LINKS.